Collagen Stimulating Treatment
Why Collagen Stimulating Filler produces natural results?
Collagen Stimulating Treatment
Collagen stimulating treatment is an ideal treatment for patients over 35 who desire gradual and noticeable results in reducing the signs of aging. This innovative treatment stimulates the body's natural collagen production and effectively replenishes volume while minimising the appearance of mild, moderate, and deep facial lines.
As we age, collagen production naturally decreases, resulting in up to a 20% loss of collagen by the age of 40¹. With collagen stimulating filler treatments, you can expect a series of 2-3 sessions spaced 6 weeks apart over a period of 3-4 months. This process promotes collagen production beneath the skin, leading to improved volume and a more youthful appearance.
Shuster S, Black MM, McVitie E. The influence of age and sex on skin thickness, skin collagen and density. Br J Dermatol. 1975;93:639-643.

Which areas of the face can be treated with collagen stimulators?
Collagen stimulating filler can be used to treat a wide number of areas on the face including replacing temple and cheek volume, treating nasolabial folds and marionette lines. The filler also improves skin texture in the treated areas.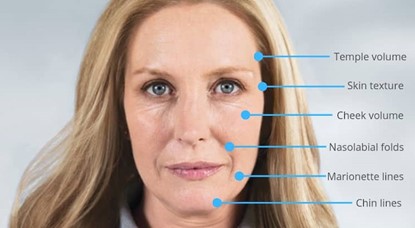 Aftercare for Collagen stimulating treatment
Massage the treated area for 5 minutes, 5 times per day, for 5 days after your treatment.
Use moisturiser whilst massaging to avoid any friction.
After your treatment apply an ice pack or ice wrapped in a cloth to the skin to help reduce swelling. Do not apply ice directly to the skin.
Make-up may be applied 24 hours after your treatment.
Avoid excessive sun, UV lamp exposure and excessive temperatures until your initial swelling and redness have resolved.
Avoid strenuous exercise and saunas/steam rooms for 24 hours after your treatment.
Covid vaccine should be timed to be not within 2 weeks either side of treatment if needed.
Avoid major dental work for 3 – 4 weeks post treatment.
Are there any contraindications to collagen stimulating filler?
Contraindications to collagen stimulating filler include:
A history of keloid or hypertrophic scars
Patients who are pregnant or breastfeeding
Patients under 18
Follow up advice
Your first 2 treatments should be spaced 6 weeks apart. A final review will be 6 weeks post your second treatment.
What are the risks of collagen stimulating filler?
Risks of treatment include, but are not limited to:
Redness, bleeding or bruising at the injection sites, tenderness, itching and small lumps under the skin.
Rarely late onset larger lumps / nodules have been reported.
At Cityskin, we take our time to discuss the treatment thoroughly with you on the day and to discuss all the potential risks and side effects.
Should you experience any of the following please contact the clinic on 1800 248 975 immediately.
An increase in pain, severe pain on the treatment site or the surrounding area.
Bruising that continues to increase after initial bruising.
If you experience a darkening of the skin, a purple or white appearance to the skin surrounding the treatment area.
Blisters that look like cold sores appear at the treatment site and surrounding area.
FAQs
Collagen stimulating filler can last over 2 years, but individual results can vary. The treatment tends to last longer than traditional dermal fillers.
The best patients for collagen stimulating fillers include patients who are:
Over 35 years of age
Patients who exercise and have experienced weight loss in the cheeks.
Patients who want a subtle but noticeable change over time
Collagen stimulating filler cannot be used in the periocular area (around the eyes) or in the vermillion (the red border of the lip).
TGA law does not allow us to use the name of the product as it is a Schedule 4 drug. We can, however, provide you a link to Galderma's website where the product name can be seen. You can also chat with us live where we can disclose the product names.
The use of collagen injections was popular in the 80s and 90s and involved injections of bovine or human collagen under the skin. The collagen filler had to be tested on a small patch of skin before use but, even still, inflammatory reactions weren't uncommon.
The development of dissolvable fillers with reduced side effects made the use of collagen injections almost obsolete.
Collagen stimulating fillers that we use now cause the production of collagen by the body rather than placing collagen directly under the skin.
Collagen stimulating filler can be used for performing a butt lift, however, we don't offer this treatment at Cityskin clinics in Melbourne.
Enhance Your Beauty with Expert Care. Your Journey to Radiant Confidence Begins Here.