Hand Rejuvenation Treatment
Hand dermal filler is a great way to rejuvenate the skin on the back of the hands. It is a straightforward procedure which takes about 15 minutes and can be performed at Cityskin clinics in Melbourne. A small amount of dermal filler to the back of each hand helps reduce the prominence of veins, helping maintain a rejuvenated and youthful appearance.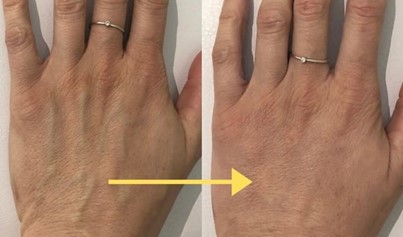 Changes in the hands as we age
As we age the skin loses elasticity and the dermis (a layer of the skin) becomes thinner. Collagen loss also contributes to this thinning effect. Over time the veins and tendons in the back of the hands becomes more noticeable. Sun damage can also affect the hands with the development of sunspots and actinic keratosis.
Dermal filler for hand rejuvenation
Dermal filler is a great way of replacing the volume in the back of the hands to reduce the signs of ageing. The dermal filler that we use is made of hyaluronic acid – a sugar found naturally in the body.
Hand dermal filler can be performed in one of two ways – either with a cannula or a needle. Small threads of dermal filler are placed across the back of the hands before massaging the area.
FAQs
We typically start by using 1mL of dermal filler in each hand and review the results in 2 weeks. Sometimes additional filler is placed in the hands at this point.
We tend to use a thinner filler which spreads nicely across the back of the hands to give a lovely even result without lumps and bumps.
Numbing gel can be used prior to treatment but it is generally a well-tolerated procedure.
Enhance Your Beauty with Expert Care. Your Journey to Radiant Confidence Begins Here.