How does dermal filler transform a jawline?
Dermal fillers are an effective way to enhance and define the jawline, whether you are a younger patient seeking more definition or an older patient looking for structure and contouring. At Cityskin, we tend to use a firmer dermal filler to provide support and structure when treating the jawline. Our experienced practitioners specialise in providing jawline fillers. With just a few clicks, you can easily book a treatment online in under a minute.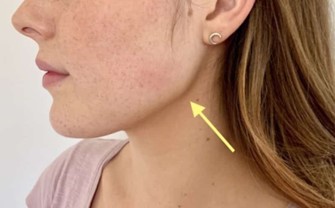 Understanding the Jawline
Jawline Anatomy
When looking at the jawline, it is best to assess a face in two distinct areas. Area 1 is the angle of the jaw and area 2 is the jowl, pre-jowl, and chin.
Area 1 – Angle of the jaw
This area can either be slimmed using anti-wrinkle injections (facial slimming treatment) or strengthened / projected outwards using dermal fillers.
A more feminine jawline is slimmer than a male jawline, and for this reason, facial slimming is much more popular in women than in men. Placing dermal filler on the angle of the jaw can achieve a 'tenting' effect and pull the jawline back, helping to improve the jowls.
Facial slimming in patients over 40 can cause a very slight sag to the jowl area – slimming the muscle on the angle of the jaw can reduce the tenting effect (imagine taking down a tent pole in a marquee). As a result, we must be very careful when deciding whether to slim someone over 40 with anti-wrinkle treatment.
Area 2 – Pre-Jowl, Jowl and Chin
This is the area where we use dermal filler to strengthen the jawline. Dermal fillers replace lost volume and provide structural support for the jawline. For a visual analogy: imagine the jawline as being like the side panel of a car. If you look down the side of the car, you ideally want to see a nice smooth curve. As we age, we develop indentations at the jowl area, like a dent in the side panel of the car. Placing dermal filler in the jowl area can be thought of as panel beating to lift up the dent and restore a lovely smooth curve again.
How Can I Improve My Jawline with Cosmetic Injectables?
Enhancing The Jawline Using Dermal Fillers and Anti-Wrinkle Injections (Jawline Contouring)
Jawline definition and a stronger profile can be achieved by using:
How to Treat the Jawline with Dermal Fillers
Dermal filler is like sculpting – we are adding extra volume above the bone to provide a stronger profile. We can place dermal filler along the jawline and chin to improve your profile.
A good way of strengthening the jawline with dermal filler is to place the filler at the angle of the jaw (the back of the jaw). We must be careful when treating this area to make sure that we don't masculinise the face too much.
How Much Dermal Filler Will I Need to Treat the Jawline?
We tend to use between 1mL and 2mL of dermal filler to treat the jawline. Some patients may need more and some a little less. If you treat the chin at the same time, add another 1mL to the treatment. We tend to use a firm dermal filler when treating the jawline to provide good structure to the area.
Treating Male Jawlines
How to Treat Male Jawlines to Achieve a 'Chiselled' Look
If you think of attractive men across the ages, they often have a common feature – a strong, chiselled jaw. Think of Brad Pitt, Robert Redford, Chris Brown (TV vet). A strong jawline is linked to higher testosterone levels and has been found in studies to be a more attractive trait.
A stronger jawline can be achieved in one of two ways in men:
Shaping the facial hair to give the impression of a stronger jaw.
Jawline fillersplaced at the angle of the jaw to project it outwards.
We rarely recommend facial slimming treatment in men as it can slim the jawline and feminise the face. Contact us to discuss jawline fillers in Melbourne for men.
Related Treatments
Chin Dermal Filler:
Enhance your profile and jawline with chin dermal filler.
Facial/Jawline Slimming:
Achieve a slimmer face by reducing jaw muscle width with anti-wrinkle injections.
Double Chin Injections:
Reduce chin fullness and enhance your side profile with double chin injections.
FAQs
Jawline dermal fillers last for up to 18 months depending on the filler used.
Enhance Your Beauty with Expert Care. Your Journey to Radiant Confidence Begins Here.