All our consultations at Cityskin are free, we believe it is important for you to receive the best medical advice before proceeding with a cosmetic procedure.
Booking deposits are required at the time of booking to secure your appointment. This fee will be deducted from your treatment cost on the day, or refunded if you choose not to go ahead with a procedure. Find out more on our booking page!
**Prices may differ at Cityskin Hawthorn, and are generally more expensive, as they are performed by practicing surgeon Dr Erik Koppert.
We have first time guides to dermal filler, anti-wrinkle, collagen stimulating filler and double chin treatments if you need more detailed information about treatments.
Please note that Australian law prevents us from using the names of anti-wrinkle and dermal filler products on the website.
Anti-wrinkle Injections
On our website we will refer to any anti-wrinkle products used as 'the European brand', 'the South Korean brand' or 'the American brand.' These are three of the most popular brands in Australia and internationally. However, at Cityskin we prefer to use the European or the South Korean brand. We can provide more detail and names at one of our free consultations.
Anti-wrinkle injections at Cityskin cost $5 per unit for the European brand, $15 per unit for the South Korean brand, and $20 per unit for the American brand (except at Hawthorn**). A 'unit' is a measured amount of anti-wrinkle product. Any reference to units on this website is for units of the South Korean or American brand. The European brand uses a different unit definition which is more than double the South Korean and American brands' units.
Practitioners, at their discretion, may choose to charge a flat $150 fee for correction of anti-wrinkle treatment performed at other clinics or for treatments requiring a small number of units.
How much is my anti-wrinkle treatment likely to cost? An estimate for different areas
Here is a general guideline of anti-wrinkle units for typical female patients:
Please use these values as an approximate guide for your next treatment. Male patients usually use approximately 1.5x more units than a female patient to achieve a similar effect. You can discuss your tailored treatment with one of our specialists at your appointment.
Note: ** when we treat forehead in women, we always recommend treating the frown at the same time to prevent the eyebrows from becoming heavy after treatment.
Facial slimming at Cityskin costs $649 for 50 units (disclosed price only available with European or South Korean brands) except at Hawthorn**. We perform over a thousand facial / jawline slimming treatments each year at our clinics across Melbourne. Read more about facial slimming treatment here.
Dermal Filler
As mentioned, Dermal filler costs $700 per mL at Cityskin (except at Hawthorn**). We only use high quality, premium dermal filler at our clinics.
We use the following approximate amounts of dermal fillers when treating: (please use this as a guide only, as required amounts will vary from patient to patient. You can discuss this with your practitioner on the day).
Double Chin Injections
Double chin injections cost $700 per vial as a flat rate (except at Hawthorn**).  Most patients use 2 vials per treatment and may need up to 4 treatments to see optimum results.
Read our double chin injection guide to find out more.
Collagen stimulating filler
Refer a friend!
Patients often come to us on the recommendation of a friend or family member. As a thank-you for these referrals, we will deduct $50 off your next treatment if you refer someone to us and they have either anti-wrinkle or dermal filler treatment.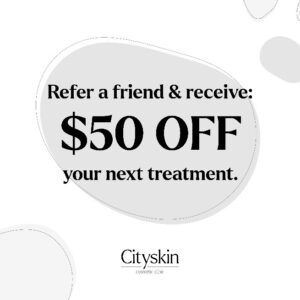 T&C on $50 off: you receive $50 off the cost of your treatment when someone that you have recommended to us has treatment at Cityskin.
Enhance Your Beauty with Expert Care. Your Journey to Radiant Confidence Begins Here.